This Is My Plymouth Road Runner: My 1968 Plymouth Roadrunner is an original Canadian spec Hemi 2 door coupe, born on April 17, 1968, and is equipped with the A833 4 speed and 3:54 Dana rear end. It is all black, with the silver & charcoal interior.
The only options besides the hemi engine and other HD items which came with the hemi is an AM radio. According to Galen's registry letter, it is the only BB1 (black exterior) Canadian '68 Hemi RR known to exist, and one of only 7 with the charcoal/silver interior & black exterior combination.
I purchased it in 1971, and have enjoyed many years and about 135,000 miles of driving it. It went through a complete nut and bolt restoration by Muscle Car restorations in 2007. It was actually my daily driver at one time, and my wife also drove it for shopping etc. She's afraid to drive it since the restoration! The pic showing the car with mags was taken back in 1971 with me driving.
Archie Duiker – Orangeville, Canada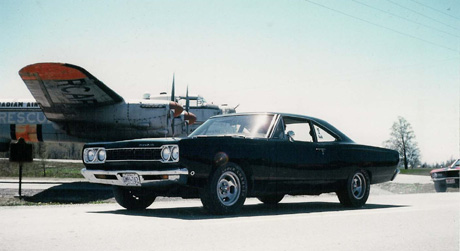 Own a Plymouth Road Runner? We are always looking for Plymouth Road Runners to feature on our network. To participate you must own a 1968-1980 Plymouth Road Runner. Click Here to get your Mopar featured.
Looking for other Mopar related cars or trucks? Check out the Mopars Of The Month site.